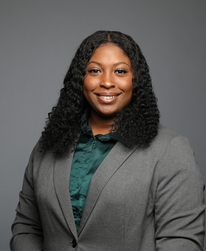 PRACTICES
Insurance Defense
General Litigation
Employment Law & Litigation
Housing Authority Litigation & Regulatory Compliance
EDUCATION
Loyola University Chicago School of Law, Chicago, IL
University of Illinois, Urbana-Champaign, Illinois
ADMISSIONS
Brianna K. Panton
Chicago
CONTACT INFORMATION

V-Card
Brianna Panton is based in the firm's Chicago office. Brianna's practice focuses on civil litigation, including the defense of auto, truck, construction, and premises liability injury claims as well as the defense of complex local public entity, municipality, and labor and employment litigation.
Brianna's experience includes clerking for the Honorable Judge E. Kenneth Wright Jr. in the First Municipal District of the Circuit Court of Cook County.

Brianna graduated from the University of Illinois, Urbana-Champaign with a degree in Advertising. She obtained her law degree from Loyola University Chicago School of Law. While in law school, Brianna was placed on the Dean's list for three consecutive semesters and a recipient of the Black Women Lawyers' Association Book Scholarship. In law school, Brianna also interned for the Honorable Judge Matthew Kennelly in the U. S. District Court of Northern District of Illinois. She was the president of the Black Law Students Association, a member of the Thurgood Marshall Moot Court team, a Student Clinician of the Loyola Business Law Clinic and a Teaching Assistant of the Professional Identity Formation Course at Loyola.

Brianna is admitted to practice in the State of Illinois. She is a member of the Chicago Bar Association and the Black Women Lawyers' Association.